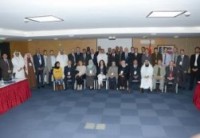 JPO was invited to participate in the ACAC/ICAO MID workshop on GNSS, which was held in Rabat, Morocco on 5th of April 2016.Organised with the support of European Commission and attended by 40 participants including 10 States, the workshop topics covered global provision and Regional perspectives on GNSS, Regional SBAS (EGNOS and GAGAN) and technological developments.

The event provided an opportunity for JPO to contribute to the continental planning on SBAS/EGNOS in Africa by sharing information with the participants about its coordination role, its achievements and the domains where States can get support from JPO in Africa.

EC provided the current status of EGNOS adoption by aviation outside EU territories, including Africa. Regarding Africa, regional projects/ programmes such as MEDUSA (for EGNOS use and adoption in Euromed Countries) and EGNOS Programme in AFRICA (pan-African) provided updates on their current status and roadmaps while GSA provided an update on EGNOS V2/V3 developments and evolutions, including programmatic aspects.

Among the recommendations agreed during the workshop, is on the importance of continuous awareness on GNSS, for States engagement and experience sharing in addition to regional and global coordination improvement. The Workshop also called for JPO and MID Region to share their experience on legal and institutional framework on EGNOS implementation.

JPO wishes to congratulate ACAC/ICAO MID for organising such an event, and look forward to a continued collaboration between both organisations with regards to SBAS/EGNOS implementation in Africa.