Posted on: October 10, 2016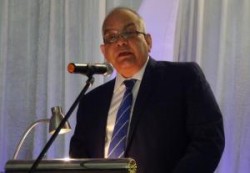 The 26th of July 2016 marked the beginning of cooperation between ECCAS and the Joint Programme Office (EGNOS in AFRICA Support Programme -Joint Programme Office),  " JPO " , by signing the Memorandum of Cooperation; ECCAS represented by its Secretary General His Excellency Ambassador Ahmad Allam -Mi , and JPO represented by its Director , Mr Ladislaus Matindi. 
The signed Memorandum of Cooperation will guide the collaboration between the two organizations in the field of satellite navigation, specifically on the potential implementation and operation of GNSS / EGNOS in ECCAS member States and its applications in all sectors ( aviation , maritime , rail, road , agriculture , land management, etc.).

The Joint Office EGNOS-Africa Programme (JPO) is indeed a Pan-African "instrument" for coordination and support to the implementation of GNSS / EGNOS and the provision of related services in Africa. As an outcome of the cooperation between Africa and the European Union, the JPO was established in December 2013 with an initial objective of capacity building for Africa within the framework of an intra-ACP programme "Support to Aviation Sector and satellite services in Africa". JPO has notably developed a roadmap for the implementation of EGNOS in Africa for the benefit of all stakeholders including the States. In 2016, the JPO enters a second operational phase under the 'Support EGNOS in Africa Programme' which is co-financed by the EU with a contribution of ASECNA.
Looking at the background, the conclusion of this agreement follows several meetings during the thematic workshops both on technical and institutional subjects, which were organized over Africa in 2014 and 2015 in the framework of SAFIR project as well as exchanges and consultations including a meeting that brought together in March 2015 a delegation of JPO experts and ECCAS under the supervision of Directory of DIPEM, a meeting which was concluded by the audience of the then Deputy Secretary General (SGA / DPBARH).
Thanks to this agreement, the preparatory activities relative to the preliminary decision making for the creation of a regional module (Western and Central Africa) which would be in charge of the implementation of SBAS / EGNOS services can be launched. The main objectives will be on capacity building in member countries through workshops, awareness activities on EGNOS system and its applications within States and collaboration in studies related to the SBAS / EGNOS programme.
As highlighted by the SGA during her audience to the JPO Delegation led by its Deputy Director, "it is important to take into consideration the need for coordination between ECCAS, CEMAC, ECOWAS and UEMOA in the implementation of EGNOS." This is even more true since the SBAS / EGNOS system has been primarily designed as a tool for regional integration.
 A Partnership between