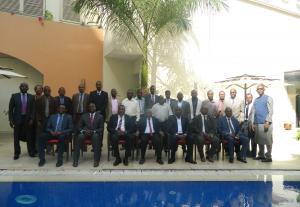 Dar Es Saalam , 1 – 2 March 2017
On the 1st March of 2017, the Honorable Deputy Minister, Transport, Works and Communications the Republic of Tanzania, Eng NGONYANI Edwin A. officiated the opening this Ceremony of this 2nd Regional Workshop on 'Implementation of EGNOS Satellite based Augmentation System' in Eastern Africa .
The 2nd SBAS Workshop 's theme in the Eastern Africa was 'Building Satellite Based Augmentation Services in Eastern Africa- Beyond Aviation: benefits for Agriculture, Surveying, Maritime, Road, Rail, LBS'while the first Workshop was centered on Aviation, a good opportunity for participants to look outside the box and open their minds to explore new opportunities offered by this new Technology in various other Sectors.
In his opening address, The Honorable Deputy Minister, on behalf of the Government of Tanzania appreciated the choice of Dar-es- Salaam as the venue of the workshop, welcomed all participants and commended shared efforts between EAC and IGAD Secretariats and JPO towards the organization of this Workshop. Quoting the Hon. Deputy Minister, participants were invited 'to re-think he current air navigation system's capacity and efficiency in Africa to benefit from the agreed establishment of a single African sky and single air transport market, which calls for exploring new technologies among which possibilities for implementing SBAS services in the East and Horn of Africa'. He gave some reference projects in EAC, IGAD and COMESA such as the Upper Airspace under the tripartite agreement, which main objective is to enhance efficiency in the management of the upper airspace to bring down navigational costs to air transport operators and improve civil aviation safety, in line with YD objectives.
The organization of this workshop was highly commended by the Hon Deputy Minister as part of the ongoing implementation of the adopted Joint Work Programme (EAC/JPO) and cooperation between IGAD/JPO to support the EAC, IGAD and DRC decision making processes towards creation of the proposed Eastern Africa SBAS Module.
The Workshop raised high interest from all participants, most of them discovering that SBAS benefits and impact go beyond aviation- providing enormous opportunities in maritime, road, rail, location based services and agriculture.Backed up with intense but constructive panel debates, JPO provided insight on various topics among which the Joint Africa-EU Strategy, the Africa/EU International cooperation on Satellite Navigation and the EGNOS in Africa JPO, an Overview on Satellite Navigation Systems, GNSS and GNSS Augmentation System including GNSS/SBAS benefits for Aviation, in Maritime and other non-aviation applications, GNSS/SBAS Technologies and the world trends, SBAS/EGNOS Initiatives in Africa and SBAS implementation in Eastern Africa which is known as 'Eastern Africa Module'.As a result, the Workshop concluded with a set of recommendations on the way forward.
A vote of thanks was delivered on behalf of all participants by one special guest, Dr Elsadig Abdalla, Director, Economic Cooperation and Social Development, IGAD in which he gave a nice story describing evolution of navigation and positinioning 'technologies' from old days of his childhood and his techniques as herd keeper to look and find animals, sheep, goats, calves or camels using our common sense and experience where to find our lost animals'. A story we will always remember of Dar Es Salaam Workshop II encounter.
Representing the Minister of Transport, Works and Communication, the closing ceremony was officiated by the CEO and Managing Director of Air Tanzania Company Limited, Eng. Ladislaus E. Matindi, who after thanking organisers of the Workshop (JPO, EAC and IGAD Secretariats) for their efforts, requested participants to urge Member States in the Eastern African region to back their Secretariats in order to make the SBAS programme a reality.
Our Vote of hanks to EAC and IGAD Secretariats for hosting in Dar-es-Salaam and co-organizing this 2nd Workshop in Eastern Africa in collaboration with EGNOS Africa Joint Programme (JPO) !
(courtesy of JPO)