Posted on: December 11, 2018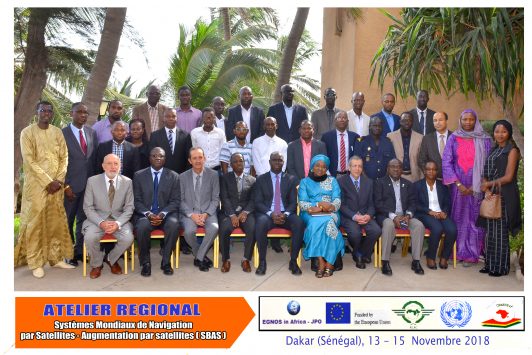 Dakar, 13th, 14th, 15th November 2018
A regional workshop "Foundations and Applications of GNSS", co-organized by the EGNOS in Africa Joint Programme Office (JPO) and the Centre Régional Africain des Sciences et Technologies de l'Espace (CRASTE-LF), with the support of the SUCCESS 2 project, was held in Dakar on 13, 14 and 15 November 2018.
In the opening ceremony the representatives from the Government of the Republic of Senegal (Ministry of Higher Education, Research and Innovation and Ministry of Integration, NEPAD and Francophonie) expressed their support to the JPO and their willingness to further promote their cooperation with this institution.
The first day of the workshop was mainly devoted to plenary conferences which allowed, in particular, understanding SBAS deployment perspectives in Africa, to take stoke of space science and technology training and education in the continent and to highlight the benefits of space technologies for developing countries.
The second and third days weredevoted to scientific and technical topics and more particularly on the Foundations of GNSS, the potential markets for SBAS in Africa and SBAS applications in the fields of Agriculture, Maritime and Location Based Services.
More than twenty trainees participated in this workshop, which also saw the participation of the Directorof the African Regional Centre for Space Science and Technology Education (ARCSSTE), and a representative of the African Regional Institute for Geospatial Information Science and Technology (AFRIGIST). In addition to the capacity building dimension which is fundamental for the development of the space sector in Africa, this event gathered several African institutions that had never worked together before and opened new avenues for the development of human resources in the space sector in Africa.
SUCCESS actively participated to the setting up of the event in full coordination with the JPO team settled in Dakar. Pr Refaat Chaabouni and Dr Daniel Ludwig delivered a speech related to the "Contribution of space for developing countries: economy and society".